Passion…. Intense….. Power….. Vibrant….. Hot
Allow me to introduce my next favourite colour…….. RED!
With obvious connotations – it's probably one colour that everyone can say something about. From Father Christmas to Valentines, reds are everywhere….
Bright red reminds me of heat, pure, raw heat which I love – I was born in the summer and I'm a fire sign which probably has a lot to do with it.
Burgundy red to me says luxury and opulence, the kind of colour that envelopes and relaxes you – a similar feeling some people have about a glass of red wine after a long day.
I find a brilliant energy to red in all it's glorious shades.
It's not often you find red in people's homes, it can be scary to use if you're not confident with colour – but there's a way round everything!
Shades of red can be great for a lounge, dining room or bedroom especially.
Use it to conjure up a feeling of serenity – a great way to create an atmosphere in your space without working too hard.
If your room is small, or naturally dark don't use red on each wall as this will close in the space and make it cave-like (unless that's the look you're going for of course?!)
LIKE WHAT YOU'RE READING?
JUST DROP YOUR NAME AND EMAIL ADDRESS TO GET EVERY POST STRAIGHT TO YOUR INBOX
You could try an ornate wallpaper on one wall and make that the feature. Pick your complimenting / contrasting colours from shades on the wallpaper or come up with another scheme that suits your luxurious red wallpaper.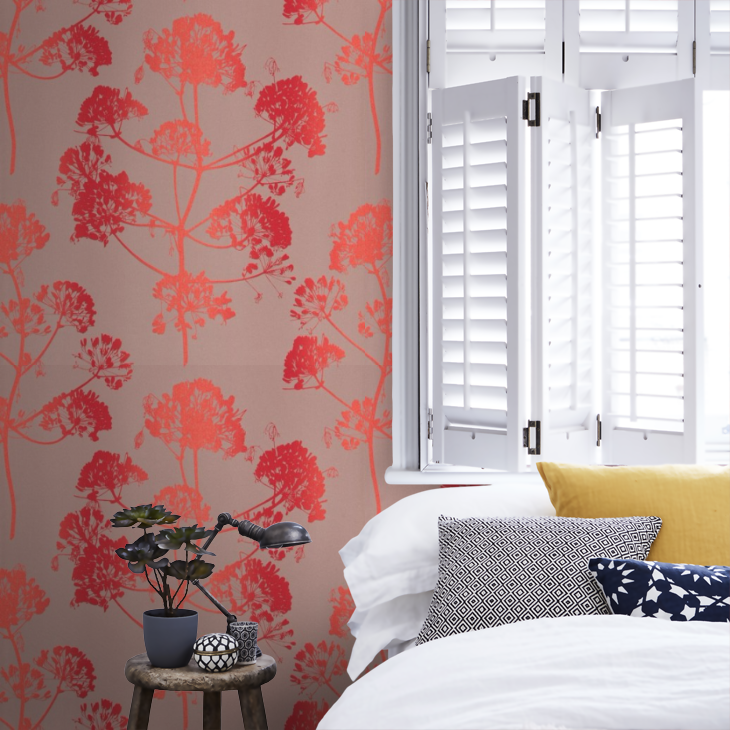 Accessories will always be the easiest way to inject bold colours into a scheme if you're not ready to commit to such colours on your walls.
You can go as bright and as loud as you like and experiment until you're happy with what you've got – picture frames, cushions, candles, rugs, ornaments – there are plenty of choices!!!