The hallway, corridor, passage, entryway – whatever you call it, whatever size it is, is the portal from the outside world into our homes. If you don't have a beautifully spacious light filled hallway it can be easy to pass through it quickly and not pay much attention to what it looks like.
If you're guilty of that, let's do something about that shall we?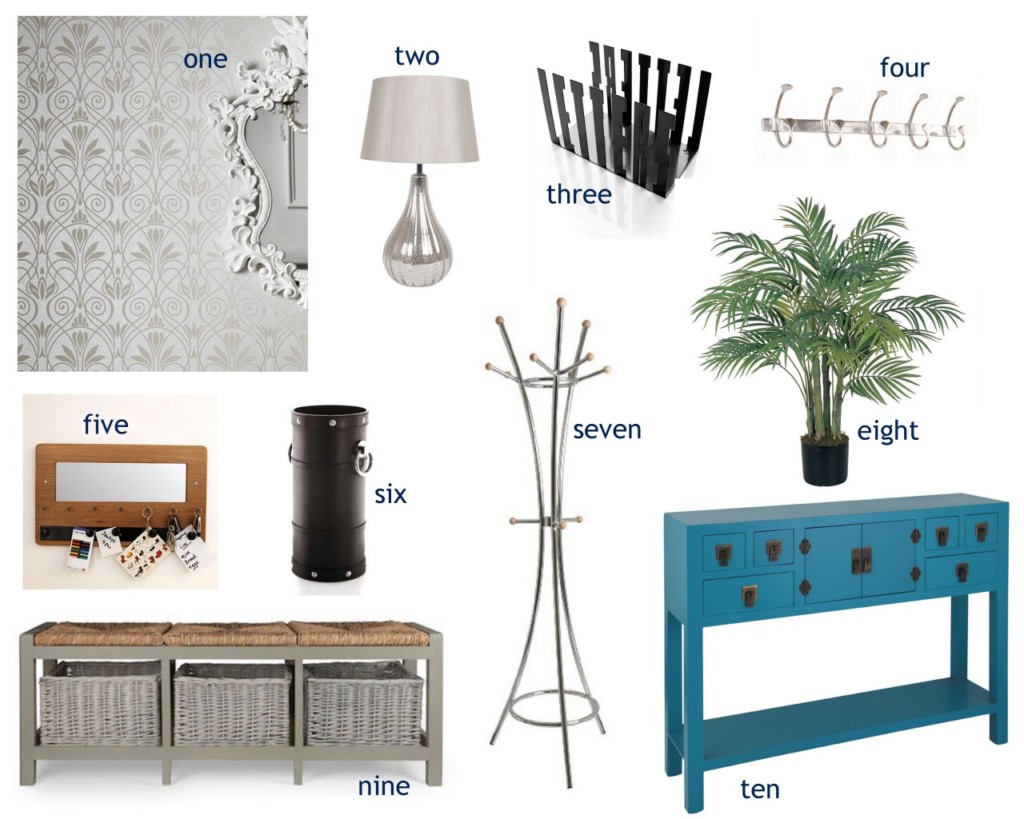 one: give your hallway instant impact with something beautiful on the walls. If it's a small area don't be afraid to go for a bold paper or colour, if you've got a large space and you're nervous, choose one wall to make a statement with – Mystical wallpaper by Graham & Brown
two: one light is never enough. If you've only got one light source in your hallway add a lamp to the space which will create a warm atmosphere and of course brighten up the area – Draycott Mercury table lamp from Dunelm Mill
three: stop creating new piles of letters and paperwork with a letter rack like this one from notonthehighstreet.com
four & seven: keep your favourite outerwear close by and tidy with a coat rack. This chrome floor standing one says not all racks have to be wooden. No space for a floor standing jobbie, get a wall mounted one instead.
five: forever looking for your keys? Put up a key rack, this multifunctional one has a mirror, perfect for that 'last look' before you leave the house and a magnetic noticeboard.
six: constantly looking for your brolly or fed up tripping over the two foot long golf ones? Treat your hallway to an umbrella stand which will also keep your floors dry after a downpour.
eight: add some natural colour. They don't just look good, houseplants can also help to purify the air, double win (but you have to keep them alive).
nine: more than enough room to swing a cat? Get a bench that doubles up as storage. Take a seat while you get those boots off and keep your gloves, hats and scarves in a safe place, perfect. Three seater storage bench from aplaceforeverything.co.uk
ten: all those bits and pieces that accumulate around your front door, takeaway menus, mini cab cards, the window cleaner's details – get yourself a console table and never misplace anything again (well you still might lose the odd thing). Rama & Sita console table from The French Bedroom Company
If you're all up to date with your Christmas gifts for your dining room, I'll be back soon with some more Christmas gifts. Next up the lounge…
you can subscribe to this 'ere blog on bloglovin
see what's rocking my world on instagram @decorbydelali
connect on twitter @decorbydelali
peep my pins on pinterest