I'm all about socialising and if there's food and drink involved, all the better!
At the mo I'm day dreaming about warm (ok hot) afternoons turning into warm evenings when I can sit in my garden, 'take tea' then sip cocktails with my ladies. The fact that my garden is a an absolute disgrace right now is neither here nor there… ahem…
Though I'm not one for dainty tea cups (I mean if you're going to drink tea why not drink more than 100ml at a time amIright?!), I do like a cuppa and boy do I like cake.  So with that in mind I'm putting these pieces on my 'essentials for garden parties' list.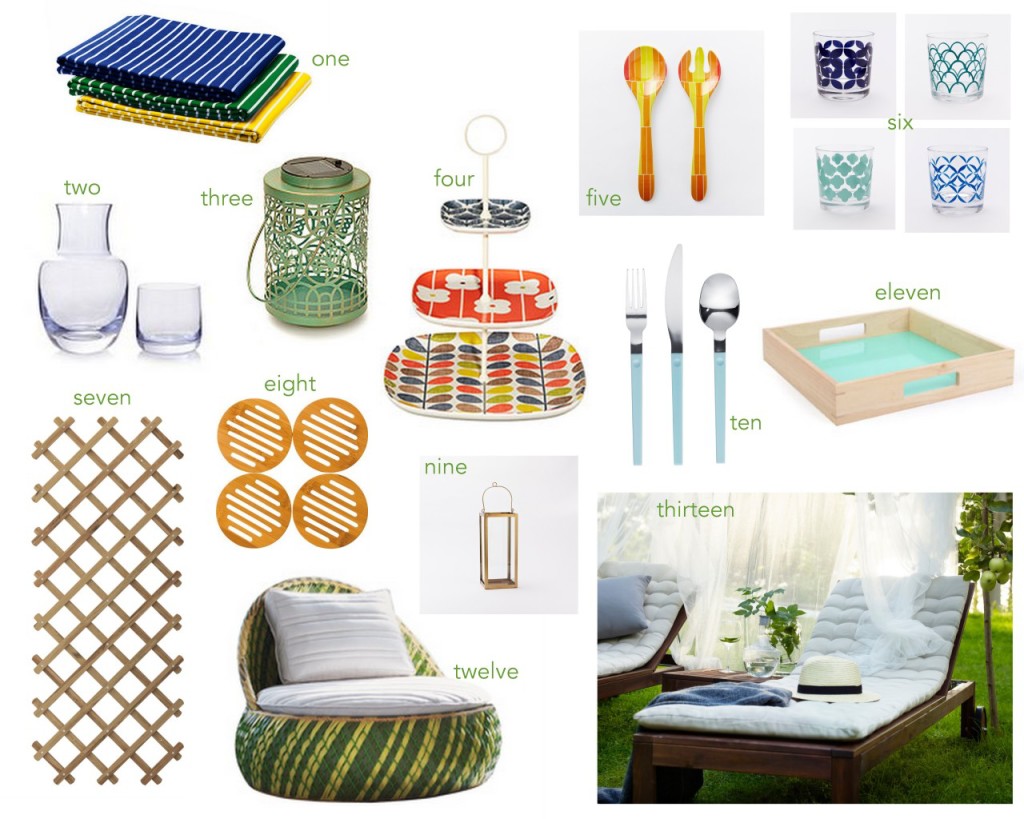 What are your must haves for garden parties and most importantly will I get an invite to yours?
1. glanta table cloths – IKEA | 2. carafe and glass set – Debenhams | 3. LED solar powered lantern – B&Q | 4. tiered cake stand – Orla Kiely | 5. salad tongs – West Elm | 6. patterned glasses – West Elm | 7. askholmen trellis – IKEA | 8. bamboo coasters – Homebase | 9. lantern – West Elm | 10. ostron cutlery – IKEA | 11. tray – Heal's | 12. lounge chair – Heal's | 13. applaro lounger – IKEA
you can subscribe to this 'ere blog on bloglovin
see what's rocking my world on instagram @delali_dbd
connect on twitter @decorbydelali
peep my pins on pinterest
find me on facebook