If you've ever wondered how to get some colour into your home, then this post is for you.
What is your favourite colour? Mine is blue, I don't even know why, but it has been for as long as I can remember – in fact, my very first blog post was even dedicated to it.
When I was around 13 and finally allowed to redecorate my bedroom (after years of petitioning), I went all in. The end result was light blue wallpaper, with a slight marbled effect, new even lighter blue bed linen and matching curtains! I did say all in…
I'd love to say it was a triumph, but of course it wasn't. No different textures, no accent colours to break up the space, just a LOT of light blue – but I loved it. Thankfully I've learned a lot since then!
Still not convinced abut the wonder of blue?
Take a look at this completely perfect bathroom situation*, created by one of my design heroes Justina Blakeney.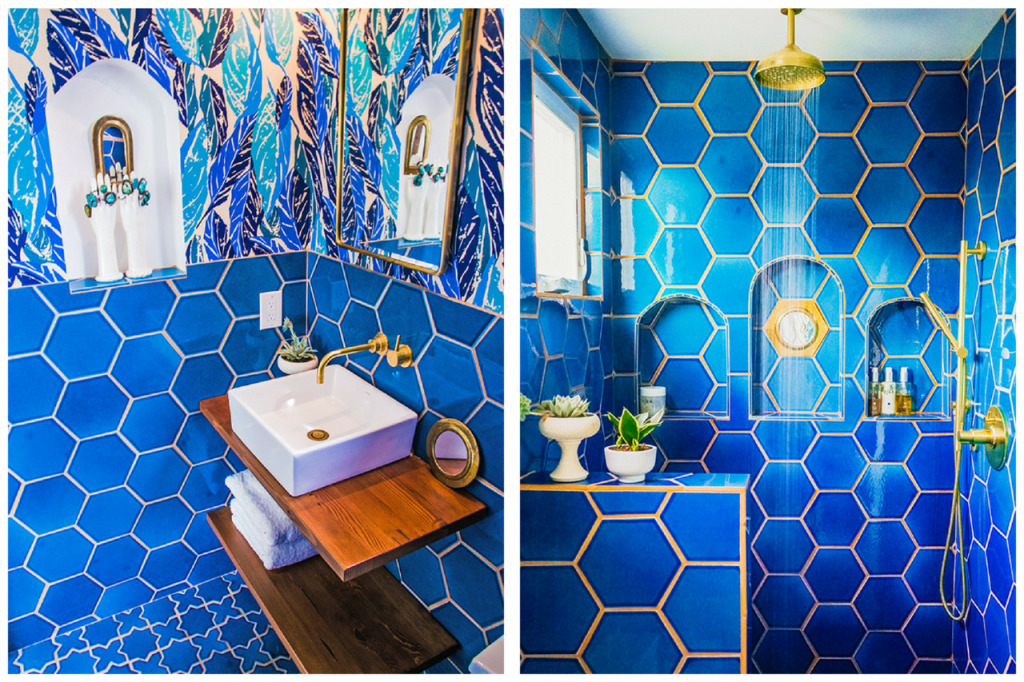 It ain't for the faint-hearted that's for sure, but in my eyes it's the design holy trinity – bold, patterned and blue!
Not confident about using or choosing colours?
My advice is to pick one and start slowly. Start with something you already have, and use that as your jump off point.
Do you have a throw, rug or piece of artwork that you love? You can take a colour from that and use it as your inspiration – but if you're looking around and aren't being moved by anything, get some inexpensive pieces you can move around and experiment with. On the other hand if you're feeling a little bolder, pick one statement piece, let it do all the work and keep everything else 'neutral-ish'.
If you're part of the blue crew too (I'm a poet), and looking for some easy ways to bring it into your home life, I've pulled together a little collection of beauties to get your inspiration flowing.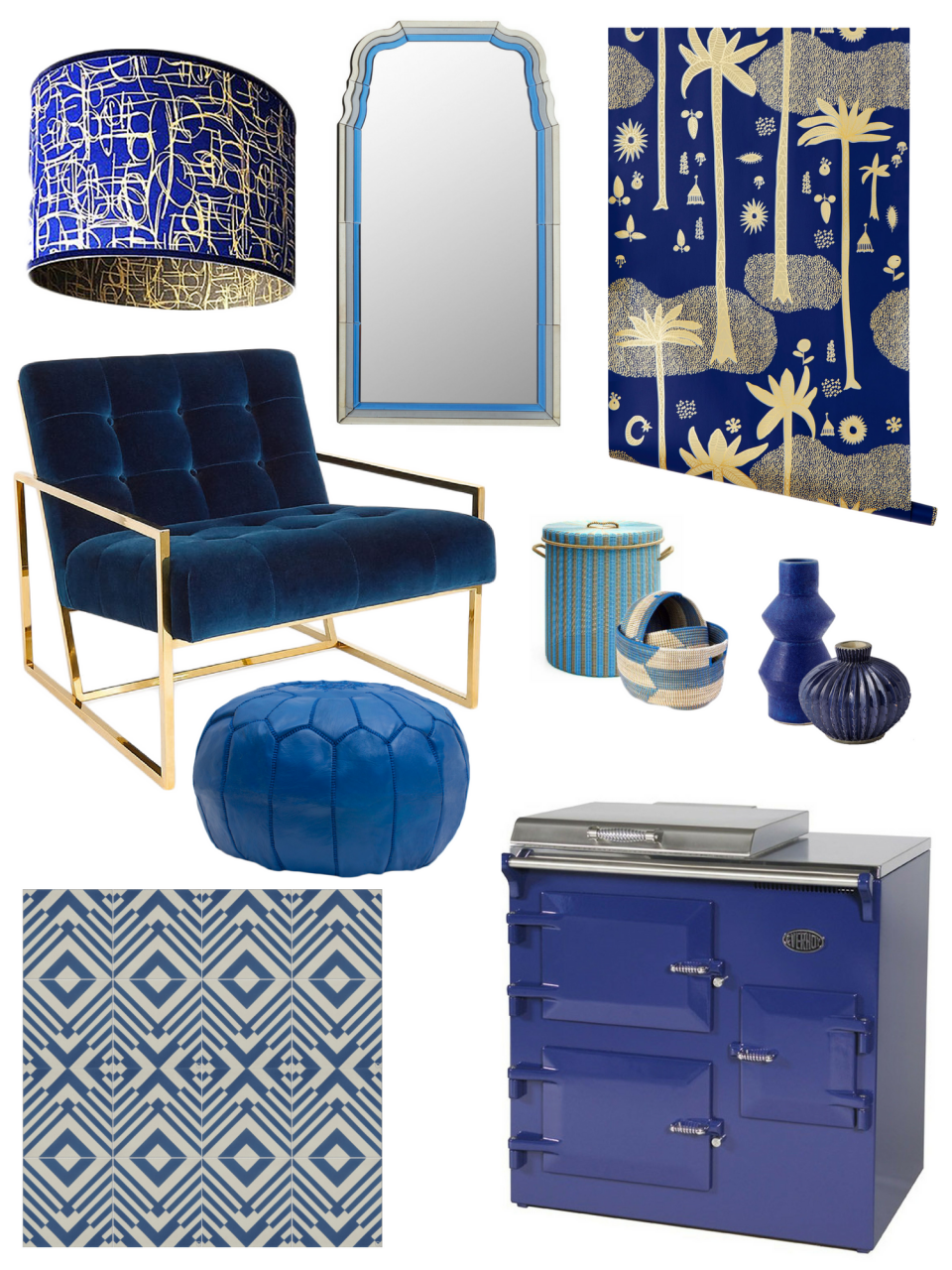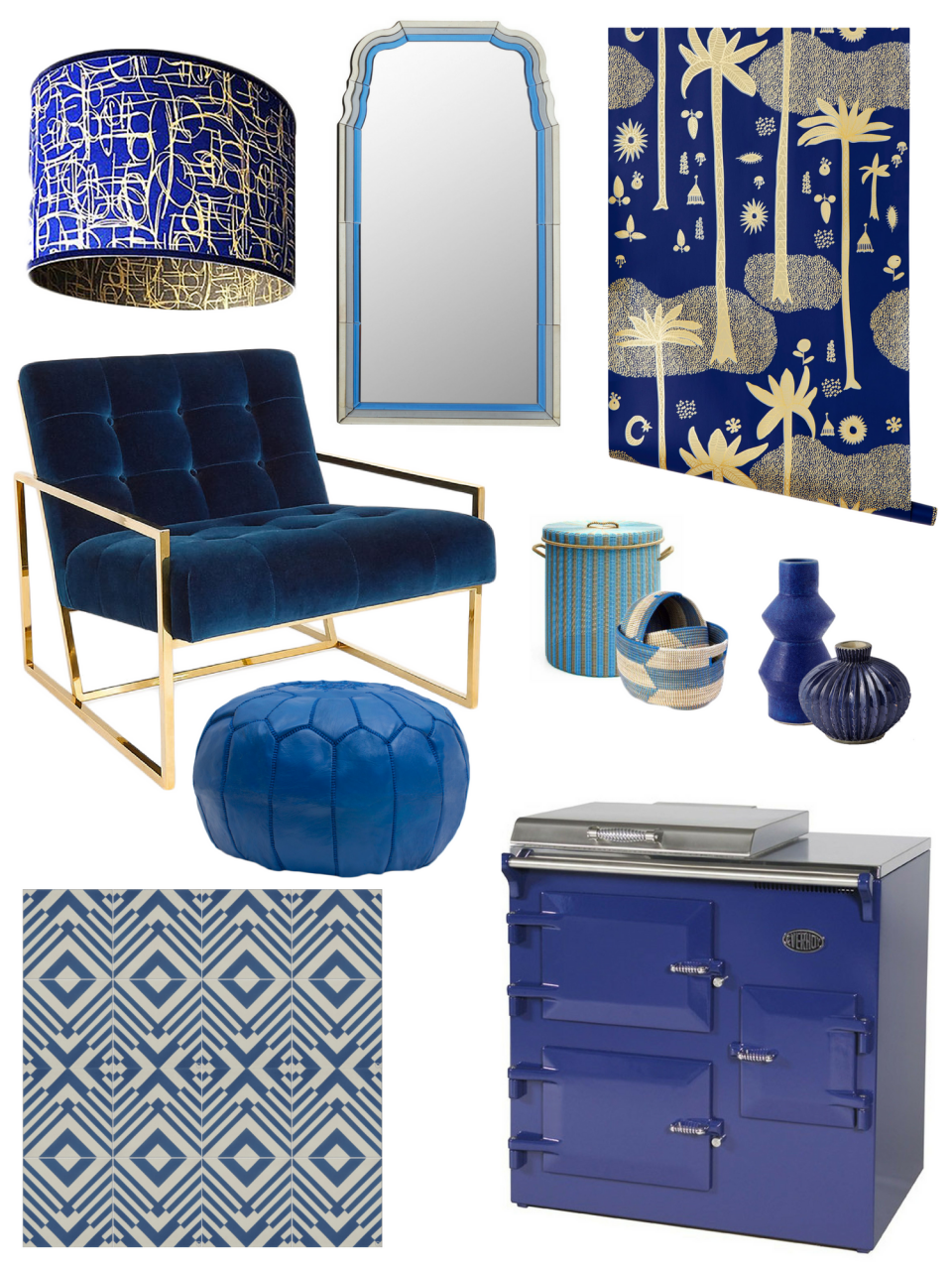 Asesegua pendant lampshade – AMWA Designs x The Bespoke Boutique | Ondello mirror – OKA | Cosmic desert wallpaper – Justina Blakeney/Hygge & West | Goldfinger lounge chair – Jonathan Adler | blue and gold storage basket – Milagros | Senegalese woven baskets – Swahili African modern | totem and rustic pure vases – west elm | Origami pattern tiles – Houzz | Moroccan leather pouffe – bohemia | heat storage range cooker – Everhot
I'd take everyone one of these pieces if only my bank account would cooperate – but if I HAD to choose, the lampshade, chair and wallpaper would come home with me immediately. 
What about you? Which of these blue pretties would be top of your list? 
*photos of Justina Blakeney's bathroom taken by Justina Blakeney.