Is yours smart or connected? What am I talking about? TVs.
First they got smaller, then slimmer and lighter, and now they can double up as computers. If you're not sure what a smart TV is, you can remind yourself here.
So you've got yourself a smart TV and you're loving all that it can do – you're tweeting, surfing, streaming, app-ing(?!) but typing, searching and status updating on your remote control is getting old really fast. If this sounds about right, then your hands are about to thank you. Enter the Logitech living room keyboard.
Trade in your standard issue PC keyboard, mouse and TV remote control and also forget about batteries (it's rechargeable). No more having to get the angle right on the remote and the infra reds lined up, or whacking the battery compartment to get it to work (why do we do that?!) This keyboard is one of those things that I didn't know I wanted but now how can I live without it? It's just so nifty.
With an integrated touchpad, left and right 'mouse keys' and a wireless range of 10m (33ft), you literally only have to move your fingers to control your TV, access your films, TV faves, music and photos – unless you live in a castle and/or have a mile long living room…
It's easy to set up so you don't even need to be an IT genius to get it up and running. All you need is PC/laptop running Windows 7 or later, an internet connection and the ability to follow instructions – plug in and play – it really was that simple.
Yes it works a treat, but the other important question, does it look good? (My photos didn't do it any justice so let's take a look at the pro shots shall we…)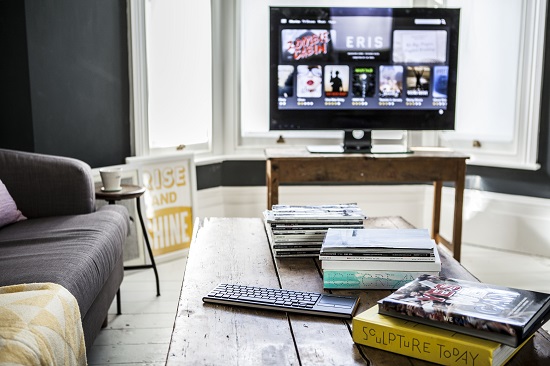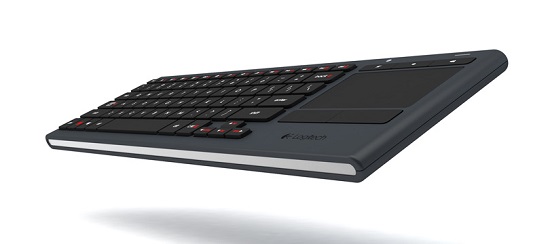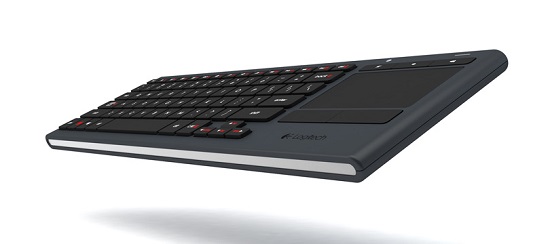 Well yes, we're alright on that front too. It's sleek, slim and compact with its own lighting feature – it automatically brightens or dims the backlit keys to adjust to the light in the room, so it even looks good in the dark.
I do love a bit of tech, and I think the best kind works wells while looking good too and this keyboard definitely does that. The down side? The battle for control of the control is about to get serious!
The Logitech living room keyboard is available now.
This post was brought to you in conjunction with Logitech®, but all views are most definitely my own.