Here we are again, that time of the year when we officially (and tearfully) wave summer goodbye… farewell dear friend, I will miss you.
The clocks go back soon which means months of eternal darkness, you know like in the film 30 days of night? Ok so I'm being a tad dramatic, but that's what it feels like to me.
All too quickly it's time for us to get reacquainted with the inside of our homes and prepare for hibernation mode.
Long nights and short days – light is the thing I miss the most in winter months, so I've started eyeing up the areas of the house that are going to need some extra oomph. I checked in with Rume, one of my 'go to' sites to see what they had to offer and my window shopping proved fruitful…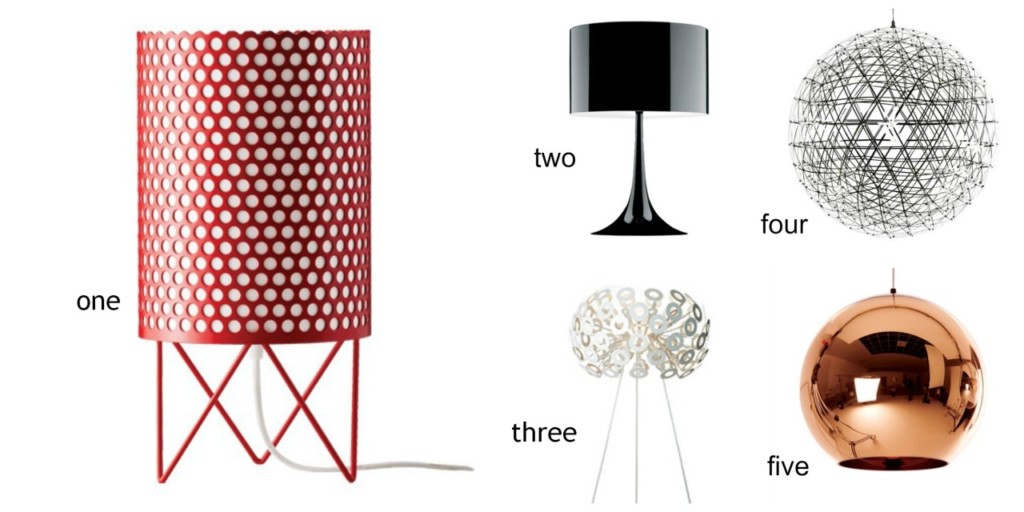 one: Pedrera ABC table light | two: Spun table light | three: Dandelion floor lamp | four: Mooooi raimond pendant | five: Tom Dixon copper shade
I wish I had the budget to get at least three of them, but unfortunately I will have to choose.
So what about you, doing anything to get your home 'winter ready'?
you can subscribe to this 'ere blog on bloglovin
see what's rocking my world on instagram @dbd10
connect on twitter @decorbydelali
peep my pins on pinterest
find me on facebook