On your travels through design stores, homeware departments and magazine spreads, I'm sure you've noticed that all things neon (of fluro if you want to be 'on trend') are having a moment and thoroughly enjoying it.
Not that this is the first time neon has been in the spotlight as you might remember from this piece.
Whether you want some for the inside or outside of your home, at the moment you are quite literally spoiled for choice.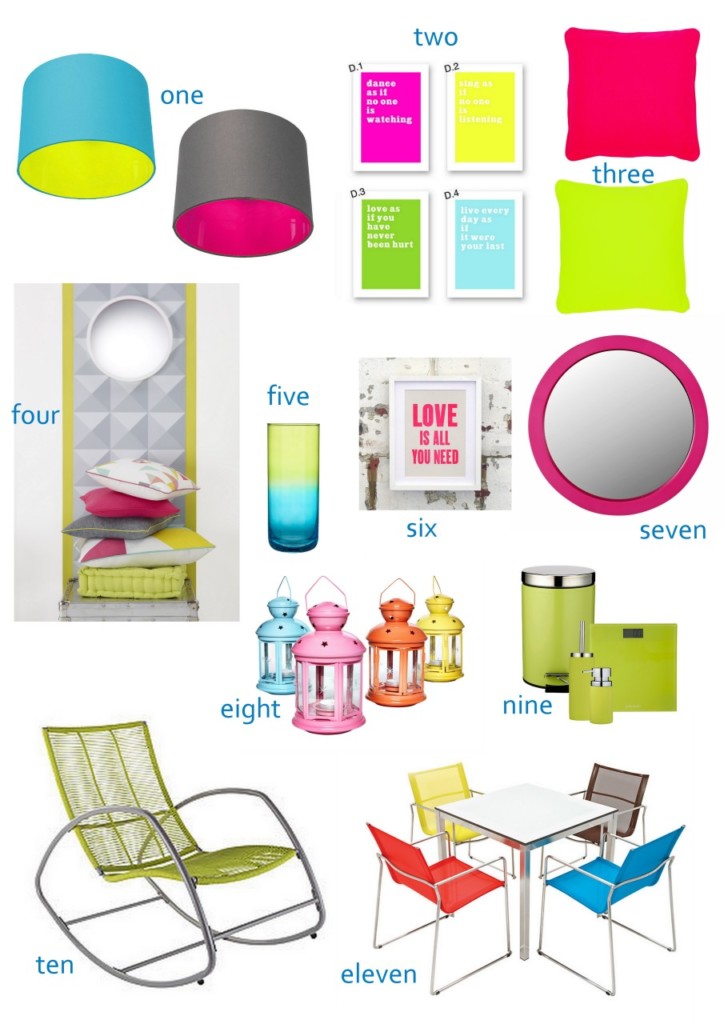 one: lampshades from notonthehighstreet.com | two: wall print from notonthehighstreet | three: zen piped cushions from B&Q | four: a selection from B&Q's fluro collection | five: vase from John Lewis | six: wall prints from notonthehighstreet.com | seven: neon mirror | eight: rotera tealight lanterns from IKEA | nine: bathroom accessories from John Lewis | ten: moretta rocking chair from B&Q | eleven: gloster-asta outdoor set from John Lewis
So are you a fiend for neon or do you prefer your colours a little less 'shouty'?
you can subscribe to this 'ere blog on bloglovin
see what's rocking my world on instagram @dbd10
connect on twitter @decorbydelali
peep my pins on pinterest
find me on facebook